St. Patrick's Day Menu
---
Network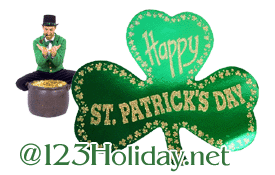 St. Patrick's Day Recipes
Baked Parsnips Irish Style Ingredients
2 1/2 lb Parsnips
2 oz Butter or bacon fat
3 T Stock
Salt and pepper
Pinch nutmeg
Directions
Peel parsnips, quarter, and remove any woody core. Parboil for 15 minutes. Place in an ovenproof dish. Add stock and sprinkle with salt, pepper and nutmeg. Dot with butter and bake for 30 minutes on a low shelf in a moderate oven. (Generally parsnips are baked in the same oven as the main meat dish, whose cooking temperature governs that of the parsnips.) Serves 6 to 8.
---
Send Flowers & Gift Baskets Online!
---
Cabbage & Leeks in Cream Sauce Ingredients
1/2 head cabbage, coarsely chopped
3 large leeks, sliced
1 large garlic clove, minced
2 tablespoons sherry or dry white wine
2 tablespoons water
1 tablespoon butter
2 tablespoons butter
2 tablespoons flour
3/4 to 1 cup half and half or milk
1/4 teaspoon mace, or nutmeg
salt and pepper, to taste
Directions
Put cabbage and leeks in crock pot. Add minced garlic, sherry and water (or use 1/4 cup of chicken broth). Dot with 1 tablespoon of butter; cover and cook on low for 7 to 9 hours. Melt butter in saucepan; add flour and stir until smooth and bubbling. Add cream or milk and cook over low heat until thickened. Add the mace and salt and pepper to taste. Mix into the cabbage and leek mixture. Serves 4 as a side dish.
---
Irish Buttermilk Bannock Ingredients
4 cups all purpose or bread flour
3 teaspoons baking powder
1 teaspoon salt to taste
3/4 teaspoon baking soda
1 cup raisins
2 eggs
1 1/2 cups buttermilk
Directions
Stir flour, baking powder, salt, baking soda and raisins together. Separately, fork-blend eggs and buttermilk, then add to dry ingredients. Stir until sticky batter is formed. Scrape batter onto well floured surface and knead lightly. Shape batter into ball, then place in round non-stick casserole that has been sprayed with cooking spray. Mark a cross in the center, using a sharp knife. Bake uncovered in preheated 350 degree oven for about 1 1/4 hours.

Wait 10-15 minutes before attempting to remove bread from casserole, then cool on wire rack. If desired, cut loaf into quarters and then slice thinly. Serves 6.
---
Irish Scones Ingredients
1 cup white flour
1/2 teaspoon baking powder
1/4 pound butter, softened
2 ounces sugar
1 egg, slightly beaten
2 ounces milk
Sultanas (white raisins) optional
Walnut halves (optional)
Directions
Mix flour and baking powder. Add butter, blending until mixture is butter-colored. Add sugar and continue to mix well. Add half the beaten egg and all the milk. Add raisins or some nuts, if desired, mixing well to make a sticky dough. Turn dough onto floured board and knead at least 5 minutes or longer. Cut dough into rounds and place on greased baking sheet or hot frying pan. Brush tops of scones with remainder of beaten egg. Place walnut halves on top, if desired. Bake at 350 to 375 degrees for 15 to 20 minutes, or until brown. If preparing over an open fire, heat frying pan till very hot. Place scones in pan and cook 7 to 8 minutes. Turn and cook 7 to 8 minutes more. Makes 6 scones.



Search the web: